On the BBC's anthology series Black Mirror, each episode explores a near-future dystopia. In each episode, a small extrapolation from current technological trends leads us into a terrifying future. The series should conjure modern-day Cassandras like Cathy O'Neil, who has made a second career out of exhorting caution against algorithmic decision-making run amok. In particular, she warns that algorithmic decision-making systems, if implemented carelessly, might increase inequality, twist incentives, and perpetrate undesirable feedback loops. For example, a predictive policing system might direct aggressive policing in poor neighborhoods, drive up arrests, depress employment, orphan children, and lead, ultimately, to more crime.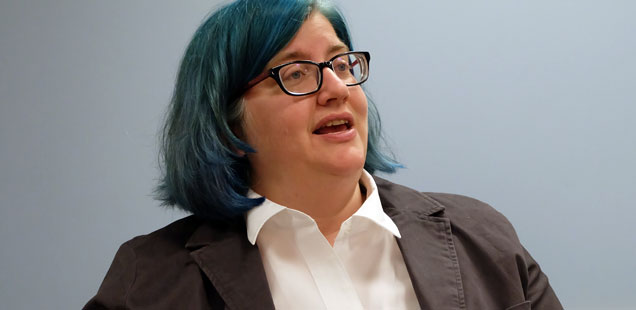 In Fifteen Million Merits, the second episode of Black Mirror's first season, most of society spends their days cycling on exercise bicycles to power their surroundings and to earn "merits". People lives in small, dormitory-like rooms where all four walls are screens that constantly play advertisements. The primary economic activity consists of spending merits to skip ads and watch pornography.
Following an incident in which Abi, his love interest, is conscripted into pornography, Bing, the episode's protagonist, develops a plan. He finds and hides a giant shard of glass and pedals relentlessly to save enough credits to buy entrance to a prominent TV talent show. Once televised, Bing pulls the shard of glass up to his neck, threatening an on-air suicide while he rants  about the system to his captive audience. Surprisingly, the judges and audience love the performance and in short order, Bing is awarded his own television show. Thereafter, in each episode, he pulls the now-legendary shard of glass to his neck and delivers a predictable rant. Afterwards, the  advertisements roll.
Perhaps the darkest suggestion in this episode is that the system is so robust that it even has a mechanism to defang contrarians. Turn them into pundits!
The Misfire
This week, Cathy O'Neil wrote a puzzling Op-Ed in The New York Times, The Ivory Tower Can't Keep Ignoring Tech. For many of us who have worked seriously to study the social impacts of machine learning, the article was disappointing in several ways. First, the primary assertion, that scholars are ignoring  the social impacts of machine learning landed strangely to the living counterexamples. Second, the article itself was disappointing as a work of critical writing.
In a reply posted to Medium,  Solon Barocas (Cornell University), Sorelle Friedler (Haverford College), Moritz Hardt (University of California, Berkeley), Joshua A. Kroll (University of California, Berkeley), Kristian Lum (Human Rights Data Analysis Group), and Suresh Venkatasubramanian (University of Utah), all researchers and faculty doing excellent work in this area, pushed back on O'Neil's assertions. Among other things, they point out that the newly established FAT* Conference (on fairness accountability, and transparency in tech) and the series of FAT-ML workshops that it grew out of are shining examples of the cohesive research community that O'Neil fails to acknowledge exists.
While O'Neil says that "academics have been asleep at the wheel", she doesn't offer a single sentence to address any recent or ongoing academic work – either to hold it up or criticize it. Note that between computational social scientists, theorists studying fairness, legal scholars studying algorithms and the law, there are many hundreds of researchers dedicated to working on precisely these problems.
Despite bemoaining the reliance of lawmakers on "the media" and extolling the potential for "uncompromised thinkers who are protected within the walls of academia with freedom of academic inquiry and expression", O'Neil, in this article, writes more like a pundit and less like an academic, appealing to gut and not to evidence.
O'Neil states that rather than taking on ethical issues, faculty in computer science are "stand[ing] by waiting to be hired", presumably by Google, Amazon, Apple, etc. Among other oversights, she ignores the fact that any professor in machine learning (AI is her primary target in this piece) turned down lucrative industry opportunities in the first place.
Throughout the article, O'Neil appears to confuse academic research and activism.  Consider the following passage:
Our lawmakers desperately need this explained to them in an unbiased way so they can appropriately regulate, and tech companies need to be held accountable for their influence over all elements of our lives. But academics have been asleep at the wheel, leaving the responsibility for this education to well-paid lobbyists and employees who've abandoned the academy.
Does O'Neil think that high-quality basic research will necessarily guide the hands of lawmakers? Even on resolved issues (say, man's effect on climate change), climate-denial lobbyists hold tremendous sway, and not for lack of research demonstrating global warming. Likely, few lawmakers if any have read or plan to read any papers that deals seriously with machine learning. A reader might infer that O'Neil is calling for technical academics to become more engaged as activists and pundits. But this doesn't agree with her primary recommendations to fund more basic research. Does she want academic lobbyists, more pop-academics, or more basic research?
"We need academia to step up to fill in the gaps in our collective understanding about the new role of technology in shaping our lives. "
While in the article, O'Neil aims much of her critique squarely at individuals, she claimed later on Twitter that the critique is actually aimed at college administrators. Perhaps society needs Cathy O'Neil the activist, pressing these issues to policy makers. But the rushed article and the specious response offer a poor model for would-be academics.
Armed with book deals, 21,000 Twitter followers, and connections at the New York Times, O'Neil now commands an audience. But with a brand tied to a specific narrative, she also has a script to read. Algorithms are scary. Lots can go wrong. And nobody is paying attention. The last point is not correct. The oversight was irksome but more palatable in her previous writings where she focused on raising awareness about algorithmic bias. But in this article, with an assault aimed squarely at academia, the apparent obliviousness of actual academic work is harder to swallow.
Even an informal peer review with any of the many academics who actively research social impacts of AI would have caught these flaws and sent this article back to the drawing board. But O'Neil has her own channel now and the next sermon to write. The date for the next broadcast is already set.
This article continues a series on the AI Misinformation Epidemic.